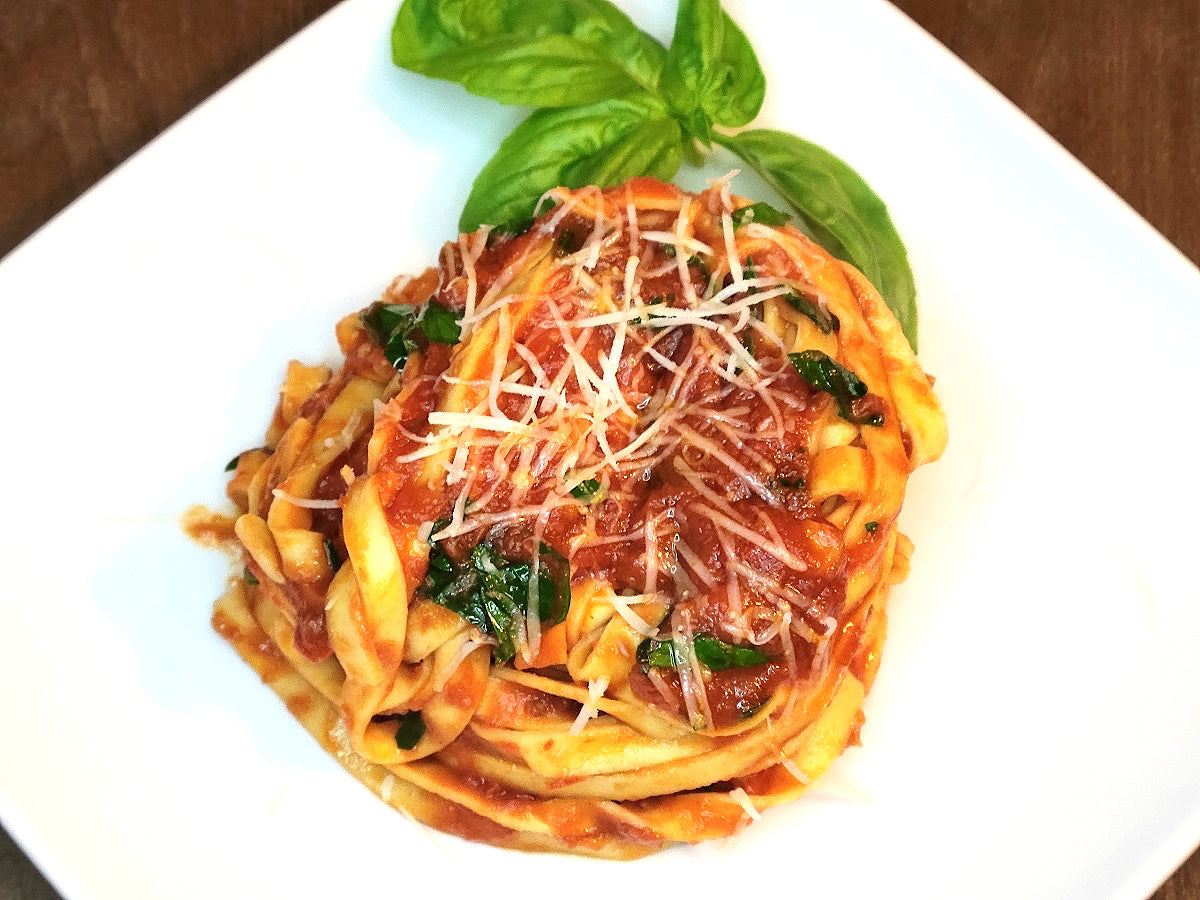 This original Sicilian family recipe epitomizes the essence of Sicilian cooking: quality ingredients and minimal cooking time. Using our Tutto Sicilia Sun Dried Tomato Paté, it will seem like you've spent hours in front of the stove making this addicting pasta dish. 
Use this recipe as the base for endless, inspired variations. Try adding different herbs, vegetables or meat. Have fun with different cheeses, such as Pecorino Romano, asiago or ricotta salata. 
Serves: 4
Prep Time: 10 minutes
Cook Time: 10-15 minutes
Ingredients
¼ cup Tutto Sicilia Extra Virgin Olive Oil
2-3 garlic cloves, minced
12-15 ounces tomato sauce 
1 jar Tutto Sicilia Sun Dried Tomato Paté 
1 lb pasta, preferably penne, linguine or rigatoni  
Italian parsley, chopped
parmesan, grated
How to Make
Bring a large pot of salted water to boil and add pasta. Cook until al dente. Reserve 1 cup of the pasta water before draining.
While the pasta is cooking, in a large saucepan over medium-low to medium heat, add the Tutto Sicilia Extra Virgin Olive Oil and gently sauté the garlic for 2-3 minutes, making sure not to brown the garlic. Add tomato sauce and simmer for 3-4 minutes. Add the entire jar of Tutto Sicilia Sun Dried Tomato Paté and continue to simmer for 5-7 minutes more. 
When the sauce is ready, add the pasta and Italian parsley, stirring to combine. Add ½ cup of the reserved pasta water if needed to loosen the sauce, and stir. 
Best served immediately and topped with parmesan cheese.