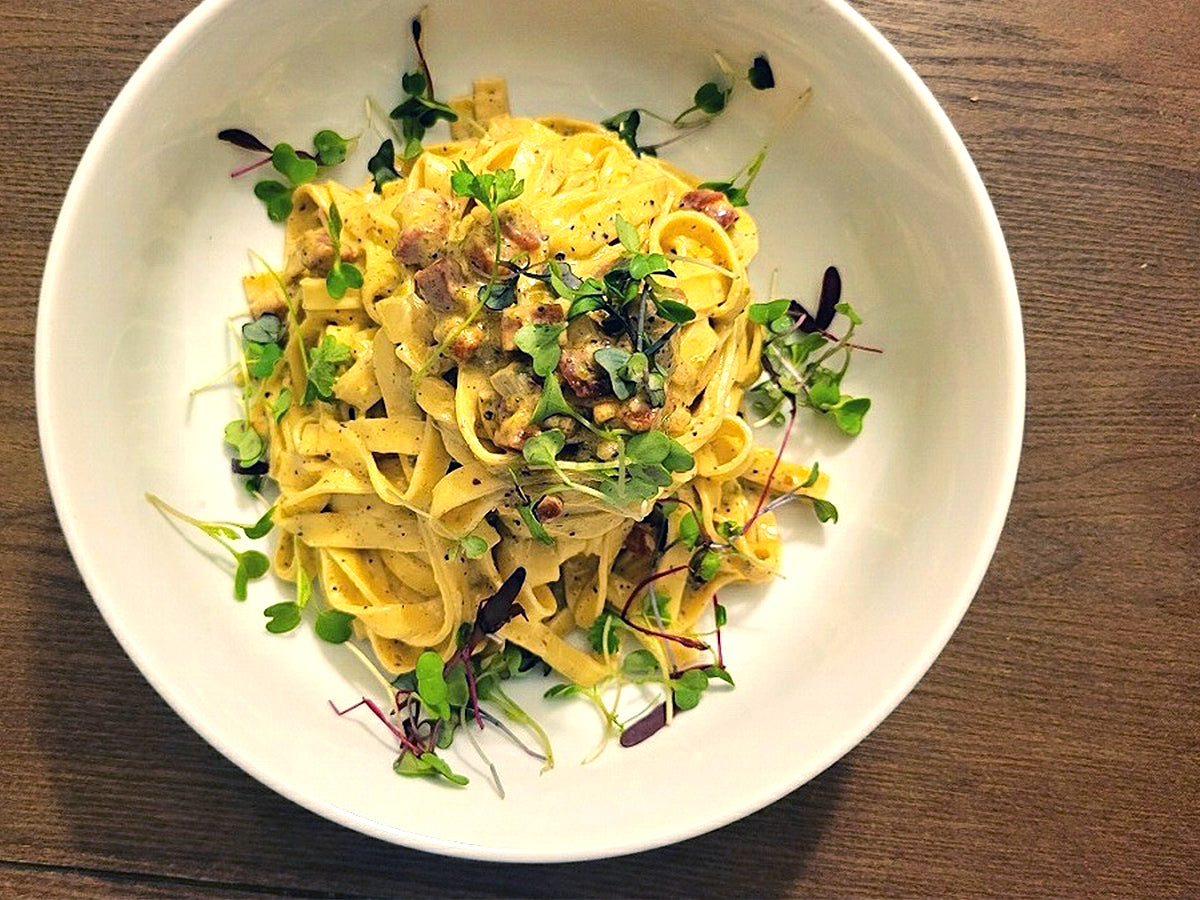 If you are in the mood for a rich flavor bomb, look no further than our Pancetta and Pistachio Pesto Pasta with Gorgonzola. Our twist on a traditional Sicilian dish takes you for a ride with its perfectly browned pancetta, world-renowned pistachios and savory gorgonzola cheese. One bite and you'll know why this recipe was passed down through generations of Sicilian families. 
Serves: 4-6
Prep Time: 15 minutes
Cook Time: 20-30 minutes
Ingredients
10-12 ounces pancetta
2 tablespoons unsalted butter  
1 small white onion, finely diced
1 jar Tutto Sicilia Sicilian Pistachio Pesto 
8 ounces heavy cream 
1 ounce gorgonzola
1 lb. linguine (fettuccine, or medium size rigatoni is okay)
salt and freshly ground pepper
How to Make
Bring a large pot of salted water to boil and add pasta. 
While the pasta is cooking, in a saucepan over medium heat, brown the pancetta. Remove and set aside. In the same saucepan, add the butter and onions with the pancetta drippings and sauté until the onions are translucent, about 3-5 minutes. 
Next, add the entire jar of Tutto Sicilia Sicilian Pistachio Pesto to the pan and stir together with the onions. Return the pancetta to the pan and mix thoroughly. 
Reduce the heat to medium-low, and slowly add the heavy cream while continuously stirring until heated through. Next, add the gorgonzola and stir until it has completely melted. Add salt and freshly ground pepper to taste. 
Cook the pasta until al dente, drain and add to the saucepan. Thoroughly coat the pasta with the sauce and serve immediately. 
This is a dish that should be made and served immediately after; if you actually have leftovers and are reheating them, best to do it in a nonstick pan so that all of the sauce gets fully warmed through and melted again. 
Tip: Don't cook for too long or you'll  end up cooking all the fat off, which is essential for this recipe to create that wonderful mouthfeel of a hearty sauce.