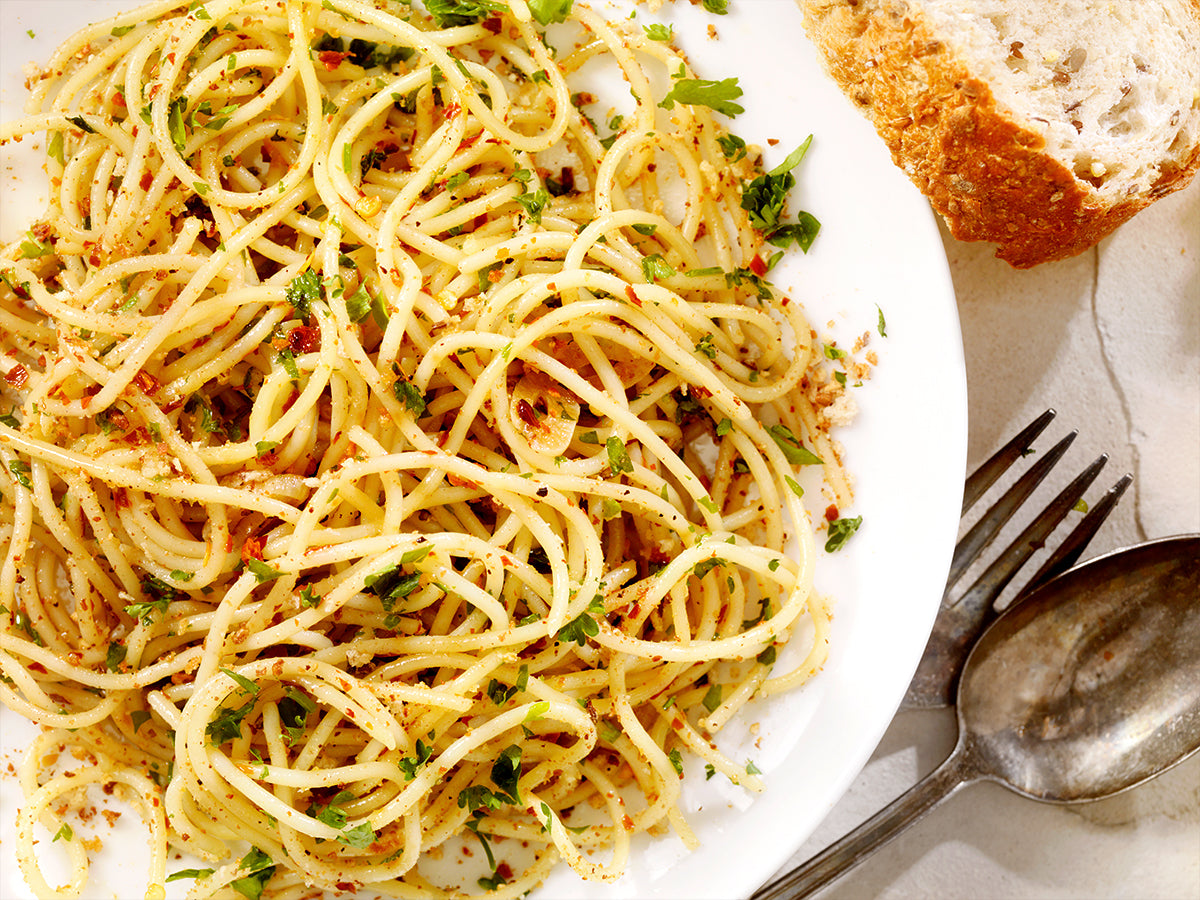 We've taken one of the most tried and true classic pasta recipes, and given it a modern update with fresh herbs and our Tutto Sicilia Hot Pepper Cream. This recipe needs no cheese, but Asiago, Parmesan, fontina, Pecorino Romano, or Ricotta Salata works for those who love to top things off. 
Serves: 4
Prep Time: 10 minutes
Cook Time: 10-15 minutes
Ingredients
5-6 tablespoons Tutto Sicilia Extra Virgin Olive Oil
2-3 cloves garlic, sliced thin
1-3 teaspoons Tutto Sicilia Hot Pepper Cream
1 bunch parsley, chopped
1 pound pasta
How to Make
Bring a large pot of salted water to boil and add pasta. Shorten the cooking time of the pasta by 1 minute. 
While the pasta is cooking, in a large saucepan over medium-low to medium heat, add 5-6 tbsp of Tutto Sicilia Extra Virgin Olive Oil, sliced garlic and 1-3 teaspoons of Tutto Sicilia Hot Pepper Cream, depending on how much heat you want. Stirring occasionally, cook the ingredients together for 2-3 minutes, making sure to not brown the garlic. When the garlic is fragrant, add a ladle of the pasta water to the pan and stir to combine. 
When the pasta is within 1 minute of package directions, remove from the heat and transfer the pasta directly into the saucepan. Do not drain or rinse the pasta. Increase the heat to medium to medium high, and add another ladle of pasta water. Stir, bringing the sauce together for about a minute. Remove from heat, stir in the parsley and serve. Add cheese if desired.